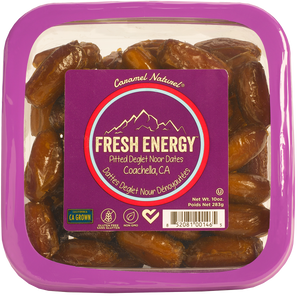 10 oz. Pitted Deglet Noor (3ct)
Regular price $14.99 Sale
The Fresh Energy Deglet Noor variety of dates is one of the best known and well loved. It is chewy with a balanced sweetness and a hint of nuttiness.
No pesticides, additives, or preservatives are used in the cultivation or packaging of Fresh Energy Deglet Noor Dates, making it a completely natural and exceptionally healthy food. Fat and sodium free, the Fresh Energy Deglet Noor provides for a nutritious 100% vegan and gluten free product with satisfying flavor and incomparable nutritional value.
It's perfect as an easy snack or chopped and added to oatmeal, dry cereal, or yogurt in the morning. Our Deglet Noor is a popular addition to trail mix as it is loaded with energy sustaining health benefits. When baking, our Deglet Noor is a great choice of ingredient due to its texture, moisture content, and perfect degree of sweetness. It's a delicious balance to savory ingredients and can be added to main or side dishes, or to salads for a quick and easy dose of nutrition and flavor.